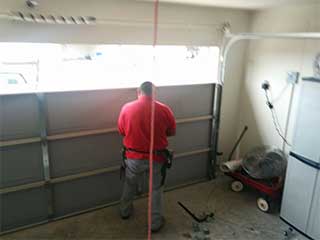 Don't Get Yourself Into A Bind!
Your garage door may seem like a fairly simple piece of machinery, but it's far more complicated than it looks. The temptation to try installing a new door yourself to try to save money is understandable, but it's more likely to cost you more in both time and money if something goes wrong. It can even be hazardous if you're not sure what you're doing, as your door is much heavier than one might think. Don't risk a lot of trouble and heartache with things going awry, instead allow our trained technicians to do it for you. With years of experience under our belts, your old door will be swapped for a new one in no time. We have doors of all colors, shapes, and sizes to suit your needs, ready to go when you are!
Is Your Opener the Issue?
Just as installing a new garage door is more complex than you may think, the same goes for your opener. If it's starting to act up and not responding until the sixth time you mash that button, it's probably time for a new one. While far less unsafe to attempt to install yourself than the door, it still comes with the risk of expensive mistakes giving you grief in the future. Rather than hope for the best, why not let us take care of it for you? Save yourself a mess and a headache later, and have our knowledgeable staff assist you in putting in one of the many brands we have on hand. Whether you prefer LiftMaster, Genie, or otherwise, we can take care of it in a snap. Also, if you're an on the go family who's opener gets a lot of use, we even have some heavy duty models that will last you longer.
Let Us Do the Heavy Lifting!
Instead of trying to handle such a huge project all by yourself, allow experts to give you a hand. It's not worth all the pain and time for you to struggle alone, and it's what we're great at! Call Garage Door Repair Diamond Bar now, and we'll work with you to find the best time to get your new garage door or opener installed.